Cardeo Credit
Clear your credit cards with our flexible, low interest credit line
Ease the pressure on your credit cards by transferring your borrowing into one, low-cost pot.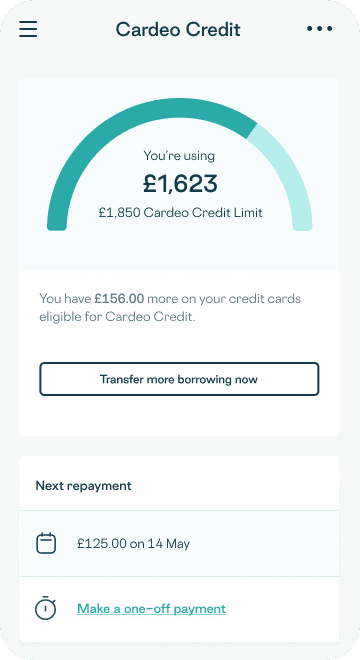 17.2%
Average interest rate
Find out your personal interest rate when you apply.
Representative example: If you transfer £1,200 of credit card borrowing at an annual interest rate of 17.2% P.A. (variable), your representative APR is 18.6% (variable).
Streamline your borrowing
Bring your credit card borrowing into one pot whenever you choose, to make life simpler. Make a single monthly repayment, managed in just one app.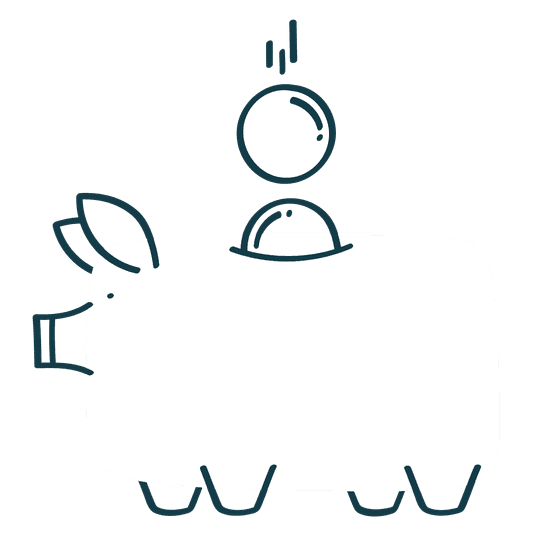 Start saving money
Cardeo Credit's interest rate is guaranteed to be lower than some of your credit cards. Pay back less interest on your borrowing - saving money straight away.
Give yourself options
A lower interest rate means choice – to cut the amount of interest you pay, pay off your credit cards quicker, or reduce the number of cards you're using.
Instant transfer
Apply for Cardeo Credit in-app and find out straight away if you're accepted. Transfer your credit card borrowing instantly, with no hidden fees.
Protect your credit score
We tell you up front if you're going to be approved. This does not affect your credit file, and helps you to decide whether to continue with the application.
Flexibly yours
Cardeo Credit is a flexible credit line in the Cardeo app. As you repay, you'll create headroom, allowing you to transfer more borrowing onto your low Cardeo rate.
Keep your cards
With your borrowing transferred to Cardeo Credit you can cut up your credit cards – or keep them for your credit history and airmiles. Whatever helps you the most.
You'll be invited to apply for Cardeo Credit when we think you may be eligible. The whole process happens in the Cardeo app.
Notification
Your invitation will appear in Cardeo
Apply
Find out if you qualify up front, then complete the application
Transfer
Accept your credit offer and transfer your credit card borrowing
Credit subject to status. UK residents aged 18 and over. Terms and conditions apply.
Cardeo Credit is a flexible credit facility to refinance existing credit card borrowing. It allows you to transfer your credit card borrowing to Cardeo. We pay off your credit card debt, and you pay us back instead.
We only do this when you qualify, and when we can beat your credit card interest rates. So if you're offered Cardeo Credit – it will be at a lower interest rate than some or all of your credit cards, saving you money.
Cardeo Credit is not a credit card. You won't get any plastic through the post and you can't use it to pay for goods and services. Instead you get to hold on to your existing credit cards even while you use it, so you can continue to enjoy their perks.
Who qualifies for Cardeo Credit?
Cardeo only gives credit to people it would be responsible to lend to, and where we can beat the interest rate of their credit cards. Qualification is subject to a credit assessment – to verify identity, check creditworthiness and affordability, and to work out the best transfer limit.
Is my credit score affected by applying for Cardeo Credit?
Your credit score is safe with Cardeo. When you apply for Cardeo Credit, we first find out if you'll be accepted by running a soft search of your credit history. This doesn't affect your credit file in any way – no matter the result.
If you qualify, and go on to complete the application and open your account, the check is then reported to your credit file. This only happens when we're sure you'll be accepted.
What is the interest rate of Cardeo Credit?
See the average interest rate on the Cardeo Credit page.

If you are successful in applying for Cardeo Credit, you'll be offered an interest rate personal to you. You can then choose whether or not to accept it.
We guarantee that the Cardeo Credit interest rate will be lower than some or all of your credit cards, by at least 1%. Any credit cards that we cannot beat by at least 1% will not be included in your Cardeo Credit offer.

How much can I transfer to Cardeo Credit?
A personal credit limit is set if you qualify for Cardeo Credit. It's the maximum amount that we can lend you.
Although your credit limit stays the same, as you make repayments to Cardeo Credit your headroom will increase. This allows you to transfer more borrowing in the future should you need to.
Some customers have a limit higher than their credit card balance. They can transfer all existing borrowing to Cardeo Credit, and have room to transfer more in the future.
Remember, you can only transfer borrowing from credit cards you've connected to Cardeo which are on a higher rate than Cardeo Credit.
Can I spend more on my cards after using Cardeo Credit?
If you reduce your credit card balances by transferring borrowing to Cardeo Credit, you may then be able to spend more on your credit cards. It may be possible to transfer more of that spending to Cardeo in the future, depending how much headroom you have under your Cardeo Credit limit.
We encourage all of our customers to be responsible in using credit. Stay aware of how much you owe in total, and don't go beyond your means. Only borrow more when you understand, and can afford, the cost of repayments.
Are 0% transfer deals cheaper than Cardeo Credit?
0% transfer deals are appealing because for a period of time you don't have to pay back any interest on your credit card balance.
However, there is often a balance transfer fee, whereas Cardeo Credit is free to set up. And with a 0% deal, you may end up repaying your balance at a high interest rate when the promotional period ends, or sooner if you miss a payment, compared to Cardeo's permanently low rate.
Cardeo helps you to pay off your credit card borrowing in an achievable way and is simple to set up. 0% transfer deals take time to find and arrange, and your options for 0% balance transfers may eventually run out.
Can I add a 0% credit card to Cardeo Credit?
You can't add a credit card with a 0% rate to Cardeo Credit, because you can only transfer borrowing from credit cards with a higher rate than Cardeo Credit.
However, you can still apply for Cardeo Credit, or add your 0% card to an existing Cardeo Credit account when it is about to expire. As soon as your interest rate changes from 0%, update the rate in the Cardeo app. As long as the new rate is at least 1% higher than your Cardeo Credit rate, you will then be able to transfer the borrowing from that card.
If I missed a Cardeo Credit repayment, what would happen?
When you accept Cardeo Credit, you are contractually liable to us for Cardeo Credit repayments. If you missed a repayment, we would ask you to contact us to discuss your options, to keep you within the terms of the Cardeo Credit agreement.
You might also be charged a £12 late payment fee. Missed repayments are reported to credit reference agencies, which could affect your ability to get credit in the future.
If you already have Cardeo Credit and are worried that you might miss a repayment, please get in touch. We will kindly discuss ways to help you make your repayments.

Contact support